Army ROTC cadets of the Rattler Battalion from St. Mary's University generously volunteered their time and provided a land navigation class for the campers. Scouts learned about pace count, plotting direction, shooting an azimuth on a compass, map reading and land forms.
Huntmasters from the Texas Youth Hunter's Program set up a Hunter's Skills Trail. They guided the youngsters through the trail educating them about ethical and legal issues while hunting.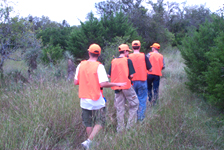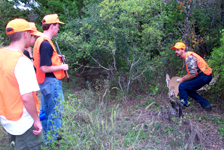 Ham radio operators, an Army Kiowa helicoptor, and renaissance reenactors rounded out a terrific event.
Plans are already in the works to host a bigger and better event in October 2004.
**Check back soon for more photos**
Special thanks to:
San Antonio Rifle and Pistol Club
342nd Training Squadron USAF
Shooting Sports ETC
Champion Outdoors
Dury's Gun Shop
The National Shooting Complex
Winchester Arms
Henry Repeating Arms
Texas Youth Hunter's Program
NRA Youth Programs
Very special thanks to:
Mr. Michael Hampton * Sgt.Major. George Becqet USA (Ret.)
Mr. Mo Parsons * Mr. Terrel Deppe * Mr. John Howard
Ms. Rosemary Herr * Sgt. Peggy Wendrock
Webmaster: dtorres@sf2a.org
Copyright © 2005 Students for the Second Amendment. All rights reserved.
site designed by j 12 Design www.j12design.com