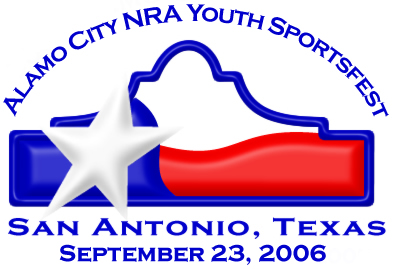 Sponsors & Participating Organizations
Founders Circle
Doctors for Responsible Gun Ownership ~ The Claremont Institute
The Houston Safari Club ~ The NRA Foundation ~ Beretta USA
The Institute For Legislative Action ~ NRA Youth Programs
Henry Repeating Arms ~ Walther USA ~ Smith & Wesson
Gold Level Sponsors
National Rifle Association ~ National Shooting Sports Foundation
Howard Leight Industries ~ Millett Sights ~ Hornady Manufacturing
Fiocchi Ammunition ~ Brunton ~ Fobus USA ~ Daisy Outdoor Products
Texas Department of Parks & Wildlife ~ Texas Skeet Shooters Association
Silver Level Sponsors
The Sportsman's Warehouse ~ SAXET Gun Shows
Remington Ammunition ~ Savage Arms ~ Remington Arms
Winchester Ammunition ~ Federal Ammunition
Stanley Hips & Longhorn Targets ~ Texas Thunder Range
Texas Guns~ Texas State Rifle Association
Bronze Level Sponsors
Shooting Sports ETC ~ The San Antonio Rifle & Pistol Club
South Texas Marksmanship Training Center
Alamo Arms Collectors ~ San Jacinto Materials
Eddie Eagle Gun Safe Program ~ Texas Field Archery Association
Texas Wildlife Association ~ Texas Youth Hunter's Program
The Second Amendment Foundation ~ Second Amendment Sisters
Citizen's Commitee for the Right to Keep And Bear Arms
Safe Harbour Diesel Repair (Key West, FL)
Please support these generous organizations and donors as they continue to support Students for the Second Amendment, the Collegiate Firearms Instructor Program, and the future of youth shooting sports in America.
Special Thanks to:

Congressman Henry Bonilla ~ Congressman Ron Paul ~ Hon. Jerry Patterson
Hon. Frank Corte Jr. ~ Hon. Ken Mercer ~ Hon. Bob Barr ~ Mr. Ted Nugent,
Dr. John Lott ~ Hon. Mike Novak ~ Texas Ranger, H. Joaquin Jackson (Ret.)
U.S. Marshal, Jack Dean ~ Sgt. Major George Becquet (USA Ret.)
Capt. Ernest Roney (USN Ret.) ~ Mr. Gary Mehalik ~ Mr.Paul Pluff
Mr. Jason Kinsler ~ Ms. Jaronn Nelson ~ Mrs. Rosemary Herr
Mr. Jay Ports ~ Ms. Janice Everhart ~ Mr. Mo Parsons ~ Mr. Dan Mosley
Mr. Dwight Engelhardt ~ Mr. Brad Howard ~ Mr. Chris Robertson
Ms. Paula Dangler ~ Mr. Al Russo ~ Mr. Joe Waldron ~ Mr. Alan Gottlieb
Mr. Todd Bieter ~ Ms. Marinelle Thompson ~ Mr. Darrin Brown
Mr. Norm McMinn ~ Mr. Al Minneman ~ Mr. Jon Clark

Webmaster: dtorres@sf2a.org
Copyright © 2007 Students for the Second Amendment. All rights reserved.